| | | |
| --- | --- | --- |
| | | "This project has received funding from the European Union's Horizon 2020 research and innovation programme under grant agreement No 767419" |
ColoFast is a 4 year, Horizon 2020 project that aims to validate and commercialize a novel, non- invasive, simple to use solution regulatory approved for the diagnosis of CRC in blood.

ColoFast has received a total contribution of 2.817.154,75€ from the EU, the project lasts from July 2017 until June 2021.

ColoFast is based on a new generation of leading-edge biomarkers that showed very high sensitivity and specificity for early detection of CRC in two prospective cohorts.

ColoFast will help to reduce mortality rate and treatment cost while improving quality of life in a cost-effective way, assisting also to fulfil European priorities for healthcare improvements.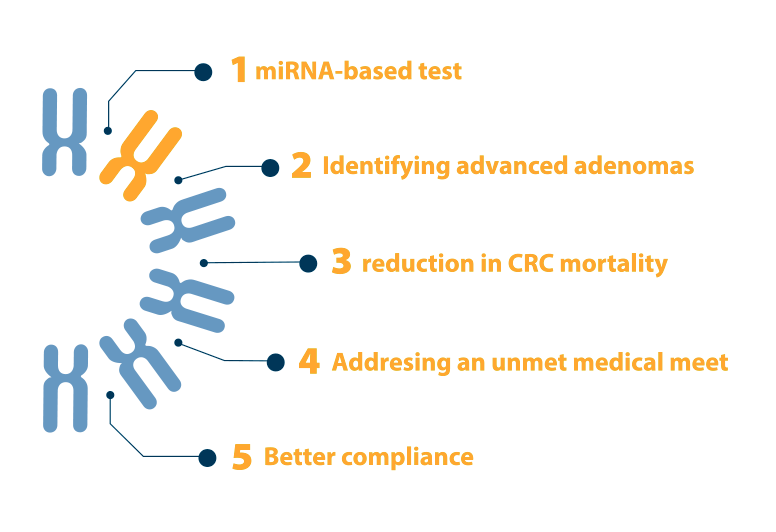 PROJECT OBJECTIVES:
Protocol definition
LDT analytical validation
Clinical validation
Software development
Business and exploitation plan update
The project structure includes the following work plan.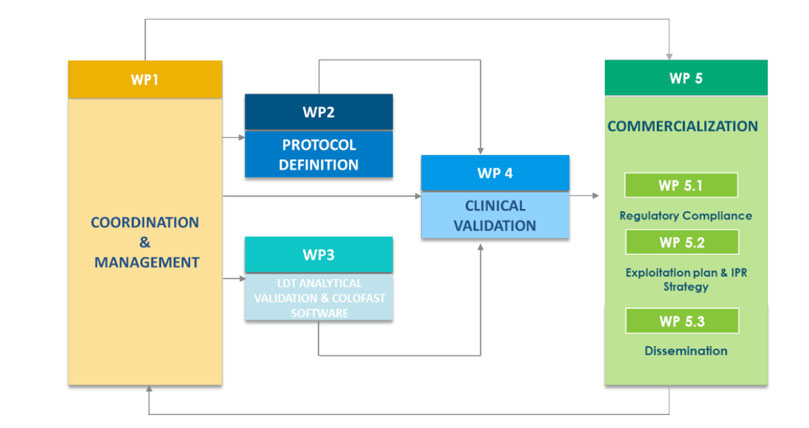 WP1: aims to ensure the proper execution of the project by meeting technical, economic and financial requirements during the project duration.
WP2: aims to define patients' recruitment, sample management protocols as well as technical and clinical protocols and database implementation according to Hospitals procedures.
WP3: aims to validate analytically ColoFast as LDT and develop the software.
WP4: aims to perform the clinical validation of a set of miRNAs for AA and CRC screening. The main goal is the Completion of a prospective multi-center study in Gastroenterology Units of referenced hospitals for an early diagnostic of CRC.
WP5: aims to achieve the proper exploitation of ColoFast in the main international markets, which require defining specific objectives to ensure the compliance of regulatory requirements, to validate the exploitation plan, to refine the IPR strategy and to prepare in advance the dissemination and communication of the results.
COLOFAST on CORDIS
More details and documents are available on the EU Cordis website at the following link